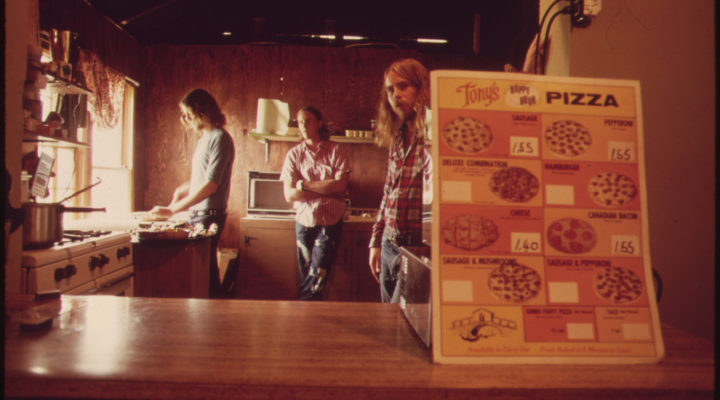 Hello, dear internet friends! I hope all is well with you. Instant gratification is the best kind of gratification – says the internet. So here is Push for Pizza and here is an article on re/code on instant gratification. It makes me slightly grumpy. Not because I am in the "In the olden days, we […]
Written by dominik on
Hello, dear internet friends!
I hope all is well with you.
Instant gratification is the best kind of gratification – says the internet. So here is Push for Pizza and here is an article on re/code on instant gratification.
It makes me slightly grumpy. Not because I am in the "In the olden days, we had to walk thirty kilometers through the snow to get a pizza! Uphill both ways!" camp that thinks hat instant gratification destroys all that is good and well but mostly because these things are probably not available where I am.
Here it's Amazon Prime, two small food delivery services and a lot of "People, who don't hunt and grow their own food, are lazy and being lazy is morally wrong."
◔̯◔
Tina Fey is the best, we can all agree on that, right? Good. So here's an old-ish article by her from the New Yorker: Lessons from Late Night
I like "Never tell a crazy person he's crazy." – I know. Just tell them, they're your internet friend and they'll be happy.
◔̯◔
Remember when OKCupid experimented on people? Well, the good thing is that it triggered Tim Carmody to write this article on why exactly this is wrong and why it's a problem with the whole social web these days: The problem with OKCupid is the problem with the social web
Related, if you want to hear the other side speak, here is the OKCupid dude on a (short, so just go ahead and listen, won't you?) podcast: TLDR 32: An imperfect match. Lovely fella.
◔̯◔
Public service announcement: Everyone on the Internet does Venn diagrams wrong
◔̯◔
Have a good day, folks.
Dominik